OOA Launches New Wellness Series
Mindfulness Mondays Focus on Self-Care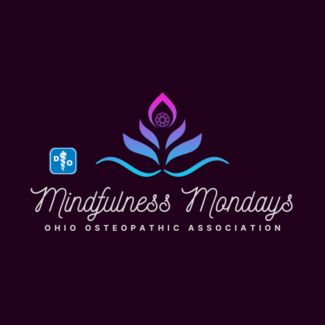 (September 16, 2022) Mindfulness is the practice of purposely focusing your attention on the present moment—and accepting it without judgment. The concept of mindfulness has been found to be a key element in stress reduction and overall happiness.
Mindfulness Mondays is a new online program exclusively for OOA members to focus on acts of self-care. On the second Monday of each month a session will be held via Zoom at 7:00 pm and last 20-60 minutes. Topics will include guided relaxation, yoga, strategies for navigating challenges, meditation, and more. There is no CME credit and the programs are free for members.

OOA President Jennifer L. Gwilym, DO, noted that physician wellness has been a priority for the OOA. "We have been a member of the Ohio Physician Wellness Coalition since its founding in 2017 and long before that we supported efforts by the Ohio Physicians Health Program and advocated for the 'one-bite' program to ensure physicians receive the help they need while protecting patient care," she said. "Since the start of the pandemic, the OOA has sponsored 20 hours of CME dedicated to physician wellness. Mindfulness Mondays will be a similar focus with a slightly different approach—dedicated to our members for free!"
The first session, Resiliency: Navigating Life's Challenges, presented by Luis L. Perez, DO, is set for Monday, October 10. Registration is required. Upon registering an automated confirmation email will be sent with the Zoom link.
Check the calendar each month for topic and registration details.
MINDFULNESS MONDAYS SCHEDULE
Second Monday, 7:00 pm
Monday, October 10 (30 minutes plus Q&A)
Resiliency: Navigating Life's Challenges, presented by Luis L. Perez, DO
Monday, November 14 (20 minutes)
Guided Relaxation, presented by Dawn Graham, PhD
Monday, December 12 (50 minutes)
Introductory Yoga, presented by Jennifer Phleghaar, DO
Monday, January 9 (45 minutes plus Q&A)
Meditation and Mindfulness: Anxiety, Mental Health, & Quality of Life, presented by Stephanie Lee
Monday, February 13 (20 minutes plus Q&A)
Humor in Medicine, presented by Edward E. Hosbach II, DO
Monday, March 13 (50 minutes)
The Bidirectional Nature of Structure and Function in Brain Health and Pathology, presented by Carlos G. Lowell, DO